ISO 9001 Policies
---
Agape is an ISO9001 certified clinic. We are the first and only hearing Clinic in Western Australia that is ISO certified. AS/NZS ISO 9001:2016 (ISO 9001:2015) is Proof of our commitment to the specialistic Hearing Healthcare and our clients (Patient-Centered Clinical Practice). The certificate is attached below, and a copy of this certificate is displayed at our Clinic. The five tick Certification mark will be used in all our documents, advertisements and other publicity material with the approval of SaiGlobal.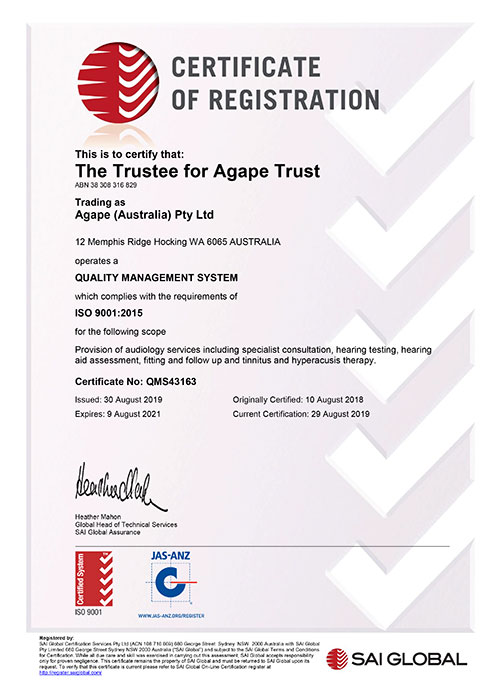 Why Certify?
Reputations are established through customer experience when Hearing Clinics are usually profit-making business like any store (Courtesy: ACCC Hearing Aids & Devices - Information to help you make an informed choice).
Gain a competitive edge through best-in-breed solutions - All our Processes, Policies and procedures are measured, and the outcomes are reviewed on a regular basis, and the system is audited by a certified third party to evaluate/validate and maintain the certification/registration.
Trustworthy, integrity in business and maintaining transparency in business - Agape support transparency in business by providing the best care, High-quality devices at lowest and upfront sustainable pricing.
To display the highly reputed/ Internationally recognized 5 Ticks StandardsMark.
Devices are prescribed based on the efficiency and performance of the model/brand, not the profit margin from suppliers. You are guaranteed Premium Brand devices and best performing models for your lifestyle and budget. Why buy subsidized models or unknown rebranded/obsolete models, when you can get premium brand Hearing Aids for the same price?
Achieve a globalized quality standard in Hearing Care, while retaining local knowledge.
Improved Client care performance - Customer satisfaction surveys and feedbacks are measured, and continuous improvement measures are taken to maintain an optimised and continual improvement in the field of Hearing Health Care.
Facilities continuous improvement elevates skill levels (Agape Policy is to employ highly experienced & University trained Audiologists to ensure you the best care. Better outcomes are only as good as the skill/experience/knowledge of the consulting Clinician like any other specialized Health Care - Choose your Clinician, before you choose you Clinic).
Clinic Facility: State of the art facility with the latest equipment including acoustic soundproof booth. Our Clinic is located in a safe & quiet Perth Suburb, No parking issues and easy access to the Clinic. (WA owned & Operated Clinic).
ASA DOCUMENT & ACCC INFORMATION ON HEARING AID SALES
Hearing Clinics are usually profit-making business like any store (Courtesy: ACCC Hearing Aids & Devices - Information to help you make an informed choice). Health-related risk - When hearing aid fitting remains unregulated (ASA Response to ABC Background Briefing "Have I got a hearing aid for you"). Agape is not a Pop-up outlet or Manufacturer's outlet. We do not prescribe devices benchmarked on Clinics/Clinicians KPIs & sales targets.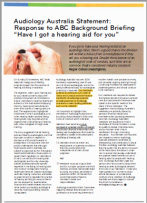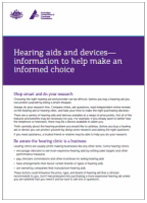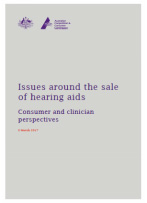 DEVICE PRESCRIPTION POLICY STATEMENT
Agape (Australia) Pty Ltd is committed to fully meeting its clinical obligations for the reliability and quality of our service in the field of Audiology.
Prescription of devices.
1. Devices preferred by the Client or Client relocated from a different clinic. Client to sign the document AGA-PRE-TMP-009 as it is their choice of device not recommended by Agape Specialist. However, it is the responsibility of Agape Specialist to advise the client whether the preferred device is suitable for their lifestyle and will meet their expectation.
2. Devices prescribed by Agape Specialist: Agape is an independent hearing healthcare provider, we do not have flagship products from certain manufacturers for economic benefits/reasons. All our devices are shortlisted based on Efficiency of the product, based on Agape Document AGA-CAL-TMP-001 (Performance of product – History and Performance of models/Brand, Sturdiness of devices, Number of devices fitted vs returned for different brands/models, retention of certain models, comfort reported by client, Technical support from manufacturer including Aftercare & Warranty services etc.). All devices shall be trialled and the Client to be fully satisfied with the device before signing off.
These data's are documented, evaluated & reviewed during monthly management meetings and recorded for Audit purpose.
AGAPE QUALITY POLICY
Agape (Australia) Pty Ltd is committed to fully meeting its clinical obligations for the reliability and quality of our service in the field of Audiology which includes Comprehensive Hearing Assessment, Hearing Device Fitting, Rehabilitation and Ongoing Follow up consultations to achieve client expectation for a better outcome including pricing and services offered by our clinic.
The company believes that success is achieved by:
Continuing Professional Development
Adherence to documented processes
Investigation of system and product deficiencies
Implementation of effective corrective action
Continuous Improvement
Assessment of Customer Satisfaction
Establishment and ongoing measurement of performance standards
The company is committed to following documented processes that comply with the requirements of AS/NZS ISO 9001-2016 (ISO 9001:2015)
Quality OBJECTIVES
The Quality Objectives are:
To provide high-quality Audiology services to meet individual Client needs at the most sustainable price.
State Of the art facility with the latest equipment's
The company is committed to following documented processes that comply with the requirements of AS/NZS ISO 9001-2016 (ISO 9001:2015)
AGAPE OFFER POLICY STATEMENT
All hearing aids are genuine and purchased locally in Australia manufactured by reputable global manufacturers.
We don't bulk buy or stock hearing aids, to ensure that our Clients get the latest models and full warranty from the manufacturer.
We have limited our consultation to a maximum of four new consultation appointments a day in an attempt to provide individualised & comprehensive, personalized care - Our guarantee for a Better Service at a Better Price.
All appointments are as per booking only to give you the luxury of time to provide the care and service you deserve.
Our operating costs per hour are minimal. Reduced overheads make us more affordable for you. All your calls and queries are answered by your Audiologist – we aim to give you the best service we possibly can.
FREE TRIAL & MONEYBACK POLICY STATEMENT
Agape provides free trials and minimum 30-Day money back guarantee. If you require additional time to make a decision, the end dates could be extended; alternately you can try another model/brand or devices returned for full refund.
The Audiologist will provide you information regarding device Warranties and Insurance in the event of loss or damage.
(Conditions Apply: Moneyback extension/Device return for refund shall be requested and agreed before the end dates specified in the invoice (this is due to the manufacturer's return for credit period, which varies for brands and can be extended only by request from Audiologist).
Warranties & Insurances will be discussed during the Comprehensive/fitting appointment.)
"Take your time to make a decision and remember it's OK to say NO. We encourage you to shop smart and do your research before you commit."
AGAPE PRIVACY POLICY & WEBSITE REVIEW POLICY
Agape follows a strict client privacy policy based on ACCC guidelines and the privacy act 1988. All information regarding the brands and pricing is available on our website for your reference.
We assure you that you will not receive any phishing emails, junk marketing materials, phishing Phone calls and newsletters to market our products/services. We do not monitor/track your IP address, demographic details or any information for our business improvement or in the intention to build our database.
All reviews comply with ACCC Supplier guide "What you need to know about: Online reviews - a guide for business and review platforms" Published November 2013
With regards to the Privacy Act, 1988 (Ref Part IX -95A, OAIC Fact Sheet X & Agape Privacy Policy) only first name and the Suburb will be provided as apart of the review. No photos, videos or any identification which can affect the privacy of our Clients will be used for our marketing or any promotional use.
However, all the original documents will be available for Audit Purpose in accordance to the latest revision of AS/NZS ISO 9001:2016 (ISO 9001:2015) Clause 9.1.2 "Customer Satisfaction - Customer perception of meeting the needs and expectations."
"YOUR PRIVACY IS YOUR RIGHT, AND WE RESPECT IT"
AGAPE COMPLIMENTARY APPOINTMENT POLICY
We are currently offering a minimum three-year complimentary appointments after device purchase, and this includes all offers advertised by the Clinic.
Upon the completion of the complimentary period, up-to $45 will be charged per appointment (minor appointments will not be charged – upon the discretion of Consulting Audiologist).
AGAPE PRICE BEATING POLICY
Agape Pricing is in-accordance to ACCC (Australian Competition & Consumer Commission) guidelines for pricing and displaying pricing.
With regards to Agape Business Policy, we assure that our prices are Transparent, Competitive, Upfront, Reasonable, Fair, and Affordable. As we value Audiology as a Prestigious Profession, and to keep the Integrity and Ethics of our core business values, alongside with the Exceptional service we provide, we don't believe in beating/matching any competitor's price. However, we are confident that our prices are Sustainable and most affordable in the industry.
We keep our prices low; Agape Audiologist is a Hearing Health Care Professional not in sales. We do not use sales scripts nor are we on a monthly sales target. We are not desperate to sell you hearing devices if clinically not required.
"OUR GENUINE BUSINESS – LOWEST PRICE & BEST SERVICE – OUR INTEGRITY – NO PRICE BEATING/PRICE MATCHING/PRICE FIXING."
WA OWNED & OPERATED SPECIALIST CLINIC – NOT A COMMERCIALISED CLINIC
Agape is a Perth based clinic consulting Clients all over Australia. We do not believe in expanding the business to a corporate level by setting up satellite clinics just to sell products/hearing aids by compromising our high-quality service.
We consider Audiology as a prestigious profession not just a business/outlet to sell you hearing aids.
Agape maintain a high standard in clinical practice. We assure you that the benchmark for prescribing you a specific brand or model (out of 10 Premium brands & 749 models of devices) are entirely based on our client's informed choice, lifestyle, budget and expectation and outlined in our Device prescription policy. We do not have any sales targets.
"Our KPI is not based on our sales targets or our balance sheets "it's our happy customers". At Agape, we put the welfare of our clients above anything."